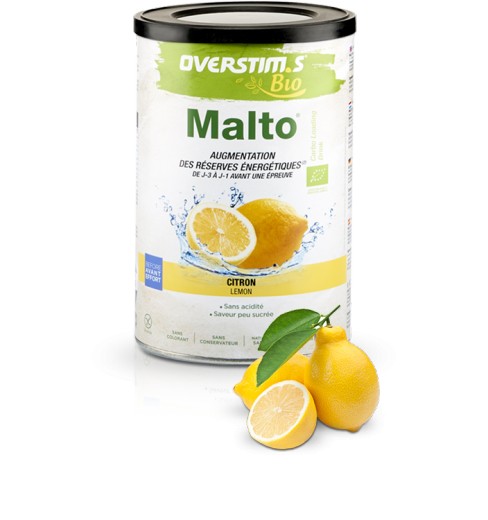 View full size
overstims Organic Malto
Reference:
Consume a Overstims Organic Malto before the effort.
Consume a Overstims Organic Malto before the effort.
The strengths of this product :
Carbo-loading on the days preceding your event
Allows a proper hydration
Non-acidic / no sensations of heartburns or digestive problems
Organic and naturally gluten-free
DESCRIPTION
By increasing your daily intake of carbohydrates by 20% in the 3 days preceding a race, your body will be able to produce an extra 45% of your usual glycogen stores!
Organic Malto is an energy drink rich in a low assimilation sugar complex known as maltodextrin which is widely used by endurance sport athletes as a pre-event carbohydrate loader.
Rather than the usual pasta binge the week before a race use Organic Malto for 3 days leading up to the event.
150g of Organic Malto provide as much energy as 650 g of pasta with neither the disadvantages of digestion nor the overloading and distension of your stomach with large quantities of pasta!
To build up your reserves, simply add Organic Malto to plain water or your usual food or drinks (tea, coffee, etc...) during the 3 days prior to your event.
Organic Malto does not cause sensations of heartburns and contains no artificial sweeteners. Compatible with a vegetarian diet.
Malto Bio originates from organic agriculture and is naturally gluten-free.
OVERSTIM.s is a member of the AFDIAG for its gluten-free range of products.
USE
Carbo-loading on the 3 days prior to an event: Drink 150g of Organic Malto in 1.5L of water throughout each day.
During physical exertion: Added to your energy drink Organic Hydrixir, Organic Malto increases and extends its power and effectiveness for very intense and / or long-lasting efforts.
INGREDIENTS
POWDERED CARBOHYDRATE-RICH NUTRITIONAL SPORT DRINK FROM ORGANIC FARMING FOR INTENSE MUSCULAR EFFORT
Lemon
Ingredients: maltodextrins(2), fructose, natural lemon flavouring(2) 1.5%, powdered acerola juice(2) (concentrated acerola juice(2) (dry extract 50%), maltodextrin(2)), vitamin B1 (thiamin). Made in a factory that use milk. (2)Ingredients from organic farming.
30 other products in the same category:
Customers who bought this product also bought: