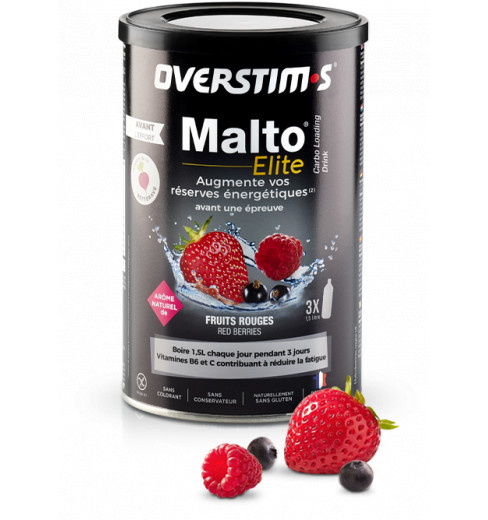 View full size
overstims Elite Malto
Reference:
Consume a Overstims Elite Malto before the effort.
Consume a Overstims Elite Malto before the effort.
The strengths of this product :
Increase your energy reserves the last 3 days prior to a competition
Slow carbohydrates (glycemic index < 15)
With beetroot and iron
Calcium and magnesium contributing to normal muscle function
Naturally gluten-free
DESCRIPTION
Three days before a competition, it is essential to increase your energy reserves (glycogen reserves) in order to improve resistance and endurance, as well as to aid recovery.
Find all of the effectiveness of MALTO ANTIOXIDANT (1) strengthened with the properties
of iron
of beetroot
highly prized for their benefits in the world of sports. (Read the English study on the benefits of beetroot)
This specific complex gives MALTO ELITE many benefits:
MALTO ELITE ensures the increase in your energy reserves without having to eat large quantities of food: You eat reasonable amounts at meals and your hydration is ideal for the event. The use of MALTO ELITE, made up of 94% slow carbohydrates (glycemic index < 15), is a considerable asset!
MALTO ELITE is a source of iron which contributes to the normal transportation of oxygen through the body.
MALTO ELITE is source of calcium and magnesium which contributes to normal muscle function.
MALTO ELITE is naturally gluten-free.
USE
The 3 days prior to an event:
dilute 7.5 doses of MALTO ELITE in 1.5 L of water every day, and drink regularly throughout the day
Since MALTO ELITE does not contain preservatives, the prepared drink must be consumed on the same day.
Dose:
7.5 level doses (=150g) diluted in 1.5l of water.
Quantity prepared:
450 g box = minimum 4.5 L of prepared drink
INGREDIENTS
maltodextrin (UE), powdered beetroot juice 33% (concentrated red beetroot juice 45%, maltodextrin, acidity regulator: citric acid), natural flavouring, glucose syrup, tricalcium phosphate, magnesium carbonate, blackcurrant powder 0.5% (blackcurrant 45%, maltodextrin), powdered clear raspberry juice 0.5% (concentrated clear raspberry juice 40%, maltodextrin, acidity regulator: citric acid), sodium chloride, powdered acerola juice (concentrated acerola juice (dry extract 50%), maltodextrin), zinc gluconate, vitamins C, B1 (thiamine) and B6. Produced in a factory which uses nuts, milk, soy, egg. In accordance with regulations, this product contains less than 20 mg/kg of gluten.
Accessories
18,90 €
30 other products in the same category:
Customers who bought this product also bought: