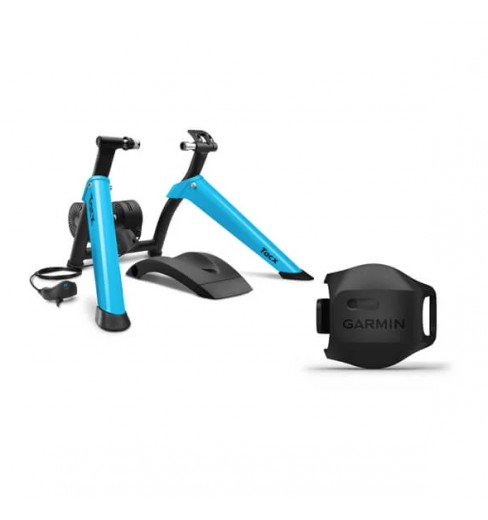 View full size
TACX BOOST BUNDLE indoor trainer
Reference: 010-02419-02
The Tacx Boost indoor trainer is easy, affordable and quiet. 
Now you can keep your training going year-round while tracking how far and how fast you ride and even train with your favourite app1
This tiny sensor knows a lot. It gives you speed and distance for indoor rides. Crank it up. Manually control resistance with 10 levels and up to 1,050 watts. Work out without waking the whole household. Super simple setup. It's ready in two clicks. Promise. Get a realistic ride feel from an actual flywheel. Included front wheel support makes it easy to move and store.
SIMPLE SETUP
With just two simple clicks, you'll be ready to ride.
SMALL BUT STABLE
This indoor trainer has a small footprint, 675 x 650 mm, but provides a sturdy ride.
EASY TO STORE
Multifunctional front wheel support serves as a handle to carry the trainer and ensures a natural cycling position.
TRAIN WITH APPS
Included speed sensor allows you to track speed, distance and virtual power when training with your favourite apps1 such as the Tacx Training app, Zwift and TrainerRoad.
MAGNETIC BRAKE
You won't need external power to use this trainer, thanks to a forceful magnetic brake that allows you to directly apply resistance or lighten it.
RESISTANCE CONTROL
A simple lever on your handlebar lets you control the resistance; 10 levels, up to 1,050 watts.
REALISTIC RIDE FEEL
An actual flywheel generates a realistic and smooth pedal stroke.
SMOOTH AND QUIET
The closed resistance unit reduces noise and makes for a smoother ride.
Features of the TACX BOOST BUNDLE indoor trainer :
Power up to 1050 watts

10 resistance levels
Lightweight and foldable: 8.2 kg
Front wheel holder can be used as a carrying handle
Compatible with Zwift, Tacx Training App, trainerRoad, Kinomap applications
10-position resistance trigger on the handlebars
Dimensions: 675 x 650 x 410 mm
Folded dimensions: 565 x 410 x 425 mm
Magnets: 2 x 8 permanent ferrite magnets
Flywheel: 1.6 kg
Mass inertia: 9.2 kg
Transmission: 30 mm roller
Power: None
Bike compatibility : road, tri and MTB, 29 "wheel
Power: up to 1050 watts
Max torque: 17 Nm
Braking power max. : 50 N
Calibration: None
Connected to third-party applications: thanks to the integrated ANT + / BLE speed sensor
Speed, Distance and Virtual Power: thanks to the ANT + / BLE speed sensor integrated into the pack
Delivered with :
Front wheel support, quick coupler for road bike and mountain bike (5mm) and speed sensor (Ant + / BT),
1 month subscription. at Tacx Training App,
Documentation.
29 other products in the same category:
Customers who bought this product also bought:
34,90 €