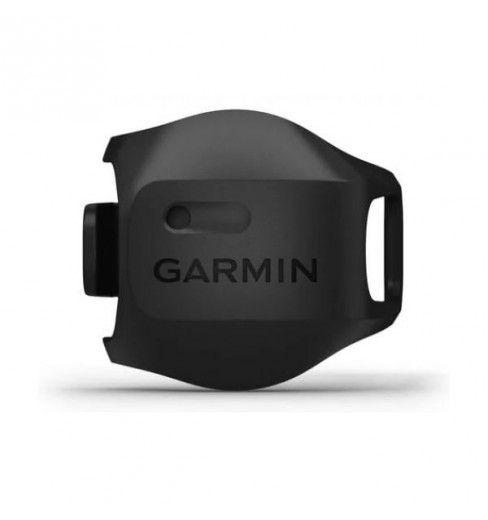 View full size
GARMIN speed sensor 2
Reference: 010-12843-00
Monitor your speed as you ride with this easy-to-install wireless sensor.
Wireless and easy to install, the GARMIN Edge 2 sensor will provide you with your speed and distance data, calculated with great precision, at all times. Designed without a magnet, it can go from one wheel to another in the blink of an eye!
After attaching it to the hub of one of the wheels on your bike, the sensor will automatically calibrate with your GPS meter. And thanks to ANT® connectivity and Bluetooth® technology, you can also send your measurements live on the Garmin Connect ™ application, to compatible applications, or simply on a screen
An odometer function even allows you to record the distance traveled to schedule the maintenance of your bike.
An accessory as discreet as it is essential and which will allow you to push back your performances by optimizing each training.
Compatibility :  
Fenix® 2 Special Edition
Fenix® 3 Sapphire
Fenix® 3 Sapphire HR
Approach® S60
D2™ Bravo
D2™ Charlie
D2™ Delta
D2™ Delta PX
D2™ Delta S
Descent™ Mk1
Edge® 1000
Edge® 1030
Edge® 130
Edge® 25
Edge® 500
Edge® 510
Edge® 520
Edge® 520 Plus
Edge® 530
Edge® 530 Mountain Bike Bundle
Edge® 800
Edge® 810
Edge® 820
Edge® 830
Edge® 830 Mountain Bike Bundle
Edge® Explore
Edge® Explore 1000
Edge® Explore 820
Epix™
Etrex® Touch 35
Fenix® 2
Fenix® 3
Fenix® 5
Fenix® 5 Plus
Fenix® 5S
Fenix® 5S Plus
Fenix® 5X
Fenix® 5X Plus
Fenix® Chronos
Forerunner® 230
Forerunner® 235
Forerunner® 245
Forerunner® 245 Music
Forerunner® 310XT
Forerunner® 35
Forerunner® 45
Forerunner® 45S
Forerunner® 620
Forerunner® 630
Forerunner® 645
Forerunner® 645 Music
Forerunner® 735XT
Forerunner® 910XT
Forerunner® 920XT
Forerunner® 935
Forerunner® 945
Foretrex® 601
Foretrex® 701 Ballistic Edition
GPSMAP® 276Cx
GPSMAP® 64s
GPSMAP® 66s
GPSMAP® 66st
MARQ™ Athlete
MARQ™ Aviator
MARQ™ Captain
MARQ™ Driver
MARQ™ Expedition
Oregon® 600
Oregon® 650
Oregon® 650t
Oregon® 700
Oregon® 750
Oregon® 750t
Tactix® Bravo
Tactix® Charlie
Varia Vision™ In-sight Display
VIRB® 360
VIRB® Ultra 30
VIRB® Ultra 30 with Powered Mount
VIRB® X
VIRB® XE
Vivoactive®
Vivoactive® 3
Vivoactive® 3 Music
Vivoactive® HR
Vivosmart®
Accessories
45,50 €
30 other products in the same category:
Customers who bought this product also bought: