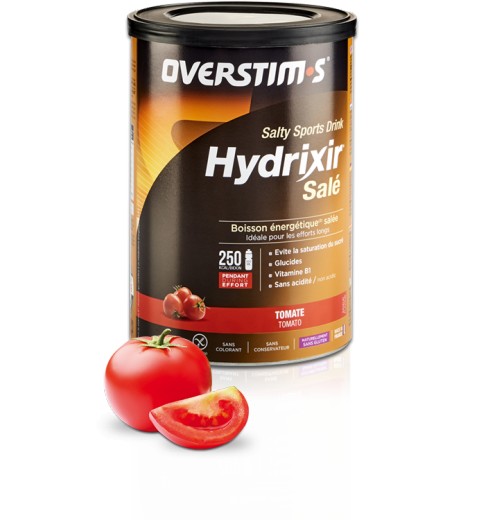 View full size
Overstims SAVOURY HYDRIXIR 450gr box
Reference:
Salty Hydrixir allows avoiding sugar saturation or monotony.
Savoury sports drink for long-distance efforts
Avoids sugar saturation
Provides carbohydrates (71%) and proteins (16%)
Naturally gluten-free
Made in France
Its carbohydrate (71%) and protein (16%) mix provide maximum energy during long-lasting events.
Its creamy texture and its flavour make its use particularly agreeable.
Salty Hydrixir is ideally completed by the Salty Energix gel.
Savoury Hydrixir is naturally gluten-free.
USE
Dilute in still water and shake vigorously. Drink 5 to 10 cl regularly as from the start of effort, in order to avoid or to overcome sugar saturation.
Salty Hydrixir can be used alone or alternately with another Hydrixir flavour. As Salty Hydrixir does not contain preservative agents, the prepared fluid should be drunk on the same day.
Dosage:
For 0.6L: 4 measures
For 0.8L: 5 measures
For 1L: 6 mesures
INGREDIENTS 
Tomato : maltodextrins (EU), soya proteins (emulsifier: lecithins (soya)), modified potato starch, powdered tomato 12% (tomato 99%, anti-caking agent: silicon dioxide), acidity regulator: sodium carbonates, salt, flavouring, vitamin B1 (thiamin). Made in a factory which uses: egg, milk, nuts, celery, sulphites. In accordance with regulations, this product contains less than 20 mg/kg of gluten.
Accessories
16,90 €
29 other products in the same category: